Deux Chevaux et Charrette Ltd.
2CV Repair & Restoration Specialists
2CV Tips
Maintenance Tips
This section is designed to help you care for your 2CV.
Accessories
Bicycle Racks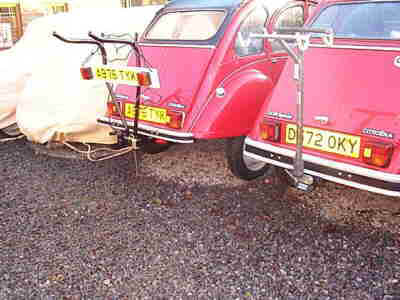 I have tried many methods of holding a bicycle to the back of 2CV's and have come to the conclusion that the rack should be incorporated with a tow bar. This does make the exercise quite expensive but you can also use a tow bar for a trip to the local recycling plant with a small trailer.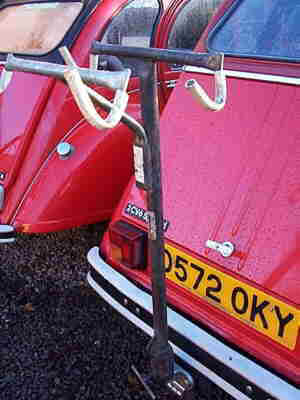 This bike rack is for one or two bicycles with the outer hooks detachable for use with only one bicycle.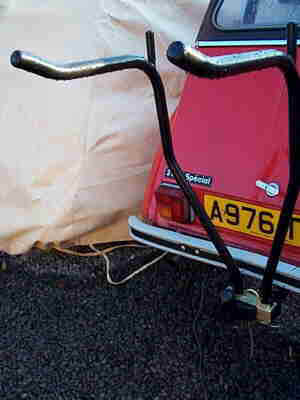 This system is available for three or four bicycles and is very compact when not in use.

Note:
The rear suspension on this rack needs to be raised considerably especially if four cycles are being used (I do this on my Mehari).
Boot Extension
This ingenious device orginated in the Netherlands and has been copied in many ways including home made wooden versions.
It attaches to the side of the boot wall and doubles your boot space. The downside is that you must keep light equipment in this area as it acts as a lever upon your suspension.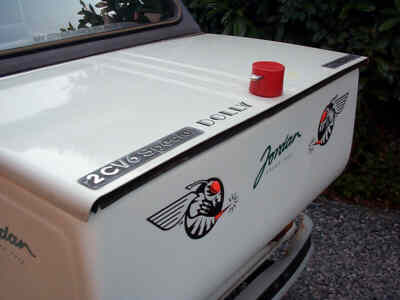 A clever super accesory devised by the Finnish 2CV club is the lid of an aerosol can with 2 slots on the side to combat water filling the lock and freezing
Heel Protector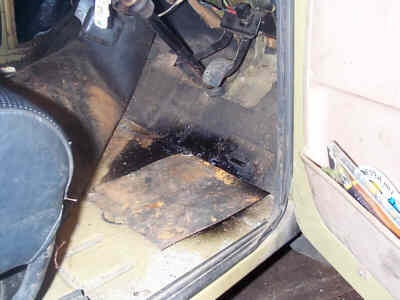 By now many of you will have experienced a hole at the front of floor caused by ten years driving. To prevent this from happening I have BOLTED a thin piece of metal at the front using the first three 11mm bolts which join the body to the chassis to hold this plate in place and take the continual movement of the heel.

Note:
It doesn't have to be metal, it can be plastic or even thin plywood (if using plywood make sure that you use slighly longer bolts when securing the body back to the chassis).