Deux Chevaux et Charrette Ltd.
2CV Repair & Restoration Specialists
2CV Raids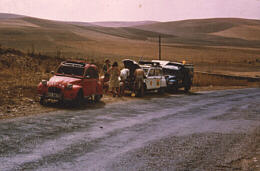 Raid Maroc 1978
A group of about 20 cars from Great Britain, Denmark and Norway met in Southern France and journeyed together in two groups to spend three weeks in Morocco visiting all the large cities and spending a few days and nights in the northern Sahara.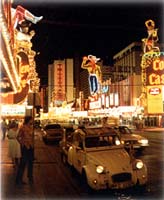 Raid USA 1982
A group of 35 2CVs drove from New York to Los Angeles via Washington, Chicago, Denver, Flagstaff and San Francisco taking four and half weeks to accomplish the trip and making many longlasting American Citroen friends.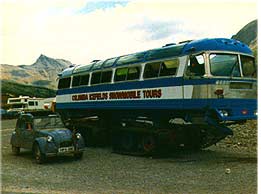 Raid Canada 1986
This time only 28 2CVs drove from Montreal to Vancouver just north of the 49th parallel visiting Niagara Falls, Thunder Bay, Winnipeg and Edmonton to finish in Vancouver before driving down Highway 101 to Southern California to drop the car off.
Raid USSR 1990
This time I went by Mehari to the far western part of Russia, starting in East Berlin and driving across Poland and Belarussia, Minsk and Moscow, Nogarov and then on to Leningrad where we left the USSR and then drove through Finland to meet the Swedish 2CV Club for breakfast.
Raid American NW 1994
This raid overlapped the 1982 Raid a little in that it started in Vancouver and came inland to Montana, Yellowstone Park, back out to the Oregon coast, through a few more National Parks to finish in San Francisco where the car was shipped back to the UK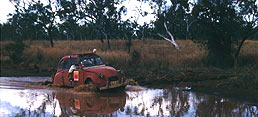 Raid Oz #3 1996
I now shipped the car from the last raid to Perth, Australia where we drove down the Gunbarrel Highway to Ayers Rock and on to Alice Springs and completed a circle to the north and then the northwestern and western coast before returning to Perth and flying home. The 2CV is still in Australia.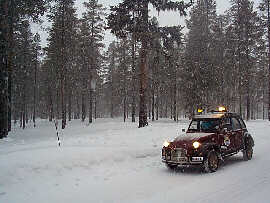 Raid Laponie #8 2000
35 cars plunged the darkness 100 kilometres inside the Artic Circle in February only to be met with the warmest artic winter on record. We have to wait another 2 years to experience the 2CV in minus 25-40 deg.C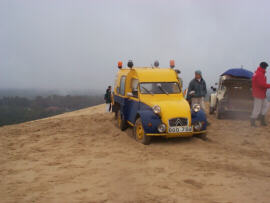 Dune de Pyla 2001
In May of 2001, 4 original 2CV Sahara's known as type AW, together with my own 2 engined 4 wheel drive van and another copy Sahara with 2x652cc Visa engines climbed the Dune de Pyla in south west France to celebrate the fortieth anniversary of the original test climb in 1961.