Deux Chevaux et Charrette Ltd.
2CV Repair & Restoration Specialists
About Us
Company
I started Deux Chevaux et Charrette Ltd. as a mobile repair business for small Citroëns and as our clientele matured I found that I had to do some of the larger cars as well. Time passed by so quickly in the 90s and the business became a limited company in 2002. As the newest 2CV is now 20 years and counting, the business has flourished in keeping a high standard of restoration, monitoring components that are not from Citroën source.
Time marches on and we will always be here to answer any questions you may have about the cars. Now that Vince has become a director in the business we now have a wider range of classic cars appearing in our workshop.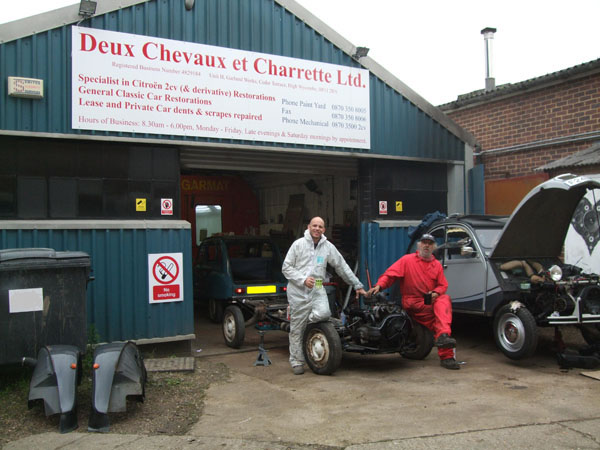 The Team

Steve
After 10 years of working for Ordinance Survey and Nat West Bank I left to start up my own business, in February 1981 when I was 27, repairing 2CVs. By then the 2CV club was well established where I was first treasurer for obvious reasons; I filled the chairman's post on two occasions over the years. I also served on the committee of 2CVGB Ltd until my semi-retirement in 2008.
I now spend time in France looking for drier and older components and return to work at the High Wycombe establishment for 1 week every 2 months. In France, I run a small
holiday Gîte business
.
Vince
I have over 30 years of experience repairing and restoring classic and modern cars. Throughout this time I have worked at:
Slough Skill Centre - making and beating panels and carrying out leadding work,
Tower Garage in Flackwell Heath - panel beating and spraying,
Hughs of Beaconsfield - working on modern and classic Mercedes cars,
Crowden Coachworks in Wooburn Green - Jaguar E-Types, Bentleys and other classic car restoration,
Beaumond Beaucraft - I restored classic cars for 11 years and it was here, in 1985, that I met Steve and my interest in 2CVs grew from there.
Car Choice in Bourne End - Modern and classic car restoration,
V8 Centre in High Wycombe - working on TVRs.
I currently work at Deux Chevaux et Charrette Ltd. with Steve Hill where we restore anything from Citroën 2CVs to Daimler Darts.